Grants for Small Businesses in Queensland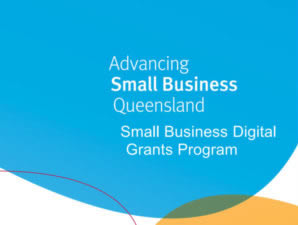 If you're considering creating or updating your digital marketing there's never been a better time.  Small businesses can apply for grants of up to $50,000 from the Queensland Government.
Business Basics Grants Program – Updated November 2022
The latest Business Basics grants are for a fixed $5,000 (excl GST) and support businesses to increase core capabilities and adopt current best practice. Successful applicants do not have to co-contribute to this grant.
To be eligible for this grant, your business must:
have fewer than 20 employees (by headcount);
 be operating and have an active Australian Business Number (ABN);
be registered for GST;
have a Queensland headquarters and an operating address in the relevant funding stream (includes Noosa and Sunshine Coast LGAs);
have an expected turnover of $300,000 or less for the current financial year;
not have been approved for funding under an earlier round of Business Basics;
have owners/directors that are not undischarged bankrupt and be solvent.
Eligible Activities
Training and coaching
Business development, marketing, human resources or business planning topics
Training or coaching of up to 4 months in duration
Developing new website content
Professional business advice
Business plans
Strategic marketing services
Strategic marketing plans including search engine optimisation advice
Business continuity and succession
Business continuity and succession plans
Cybersafety training and tools
The grant can be used for website development and upgrades, strategic marketing, training and coaching, advisory services and planning for business continuity and succession. Applications are to open until December 5, 2022 via the Business Queensland website.
We've helped numerous businesses successfully apply for Queensland Government grants. If you'd like specific advice or tips on how to secure a grant for your business email rich@mucho.com.au.
Request a proposal to complete your application
Please get in touch asap if you'd like a proposal from us to use in your application for the grant. It may take up to three working days for us to assess your needs, create a marketing strategy and write a proposal that will give your business the best ROI.
Contact Rich at Mucho by email now or call us on 0468 422 693.