Copywriting Rates
Apart from web design and SEO, we also help small and medium-sized businesses benefit from top web and email copywriting while sticking to their marketing budget.
Web copywriting rates and charges vary hugely, from AU$25 to $250 per hour. Our copywriting costs can start from as little as $125 per page which represents excellent value for money for our clients.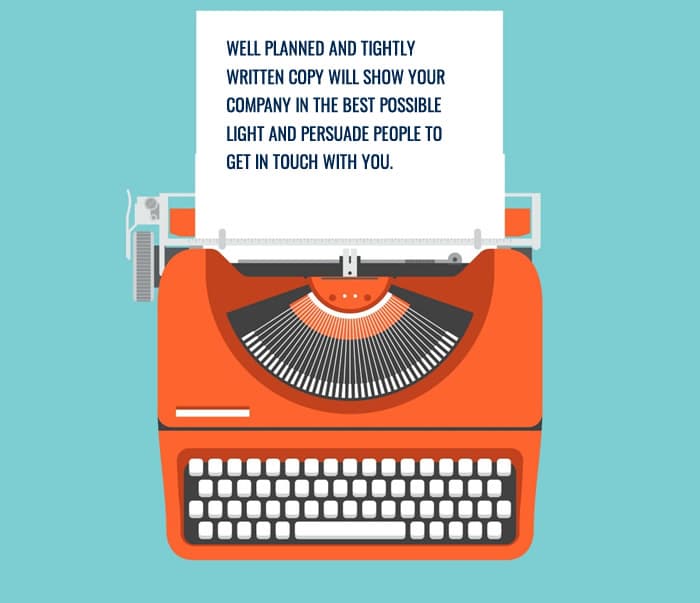 As a general rule, skilled web copywriters who can write copy that sells charge a higher rate but they write faster and their writing is more effective.
We offer excellent long-term value because of our combined expertise and experience in web writing, marketing, search engine optimisation (SEO) and conversion.
No Minimum Charge
We tend to get booked up by regular clients but, if we have time, there's no minimum copywriting charge. So if you'd like to sample our copywriting by requesting that we write only a sales email, one page of your website or an email newsletter, you can.
The cost will depend on how much research time, if any, is needed but we'll quote beforehand so you'll know the exact cost.
Get a Free Quote for Web Copywriting
Just send us an email telling me what you want me to write, who will read it and what your aims are and we can give you a fixed costing for the job.  We always give a fixed quote before starting work on a project and will stick to your budget.
We can charge out per web page, for a whole website, for a sales email or by the number of words written. Most clients prefer a fixed rate for the whole job.
I look forward to finding out more about your business and how we can help with your Internet marketing and Web copywriting needs.
Typical Cost of Web Copywriting for a New Website
Copywriting rates start from AU$125 for writing 400-700 words of web copy. So a typical website with 8 pages of information may cost from about $1,000. For email newsletters, the rate starts from $125.
What Does the Cost Include?
Our fixed costing will include:
Initial briefing by phone, email, Skype or face to face if you're near Noosa or on the Sunshine Coast;
Additional research if needed;
Client discovery if needed;
Writing and submission of the first draft;
Further discussion;
Evaluation and integration of up to two sets of revisions, although one revision is usually enough;
Submission of final draft.
Our Web Copywriting Quality Guarantee
I'll work with you until the copy is to your liking. I suggest starting with one page and working on it until the copy is perfect for you. Then I know the tone and style you're after and can write the rest of the copy based on that.
I want you to be totally happy with the work I do for you. If you see something you're not happy with, just mention it to me and I'll try to alter it to your liking.
Other copywriting services:
More copywriting information:
Got Questions or Want to Get Started?
Contact us now to get a free quote.