5 Ways Blogging Took My Business From Blah To Boom
Guest post by Kat Eden
In the past six months I've created an additional $25,000 income from blogging, and I'm well on the way to exceeding that figure over the next six months. Starting a blog has been one of the most lucrative endeavors I've ever embarked upon.
If you're thinking I seem a little smug about my success, well – you'd be perfectly right. But before you write me off as one of the lucky ones to whom overnight success just 'happens', let me take you back…
It's a long way to the top
If there's one thing I've learned over the past three years it's that blogging success depends on staying power.
When I started my first blog in August 2008, I made one very deliberate commitment to myself. I promised myself I would never, never, never quit. After all, my dream was to be a writer and to make an income from doing so, and blogging seemed a smart path to take. Perhaps, I thought, I might even grow my business along the way.
The first few months saw me wading through various blogging mentoring courses which, while full of great advice, frankly just overwhelmed and even depressed me.
Keeping up with the weekly tasks would have equated to 40+ hours, and I was already working full time for myself as a personal trainer. On top of that, I liked to keep busy with a little exercise, plenty of socialising, and – of course – the requisiste 'me-time'. Occasionally I even liked to get a good night's sleep!
If that was what it was going to take, then I wasn't really interested.
I decided to do things my way, posting consistently 2-3 times per week but otherwise throwing 'the rules' out the window. Looking back, it wasn't my best choice …
After blogging this way for 10 months, I had an impressive 109 readers. I knew that the definition of madness was to keep doing the same thing repeatedly and expect a different outcome, but I really just didn't know where to start.
It was all so overwhelming (and still can be!) – perhaps I should just admit defeat and move on.
Everyone deserves a break now and then
I'd been thinking that way for a while when I came across a Copyblogger post called 'Screwed up your Blog? Here's what to do.' It was written by Jon Morrow, a blogger and Associate Editor of Copyblogger. The final paragraph had me nearly jumping off my chair:
"Over the next few weeks, I'm going to do around 20-30 telephone consultations. I'll get on the phone with you for 30 minutes, and you can tell me what's troubling you about blogging. I'll then give you advice specific to your exact situation."
What an awesome opportunity! I scrolled past 164 comments and made my entry: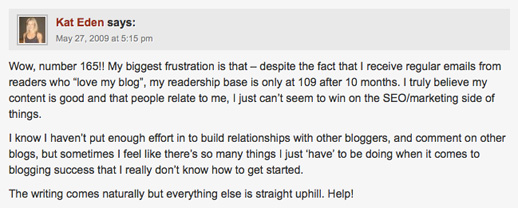 I know you can imagine how over the moon I was when I received an email from Jon saying I'd been chosen. I felt like I'd won the lottery, and literally counted the days until my consult.
Looking back, I am convinced that this was the turning point for me. That 30-minute consult is the reason that today, when I release a full-day event at between $200 and $500 a ticket I sell out in weeks. It's the reason I've been able to sell 161 copies of my US$37 e-book, and fill a 12-week telecoaching program in days. Indirectly it's even how I've ended up writing for national publications like The Australian Women's Weekly. And it's allowed me to forge some pretty amazing connections with other bloggers and writers.
I still have Jon's advice saved on my computer. In a nutshell, this is what he told me:
writing guest posts is the best way to build a relationship with another blogger and broaden your audience;
comments can work as well; best to include a personal life experience;
I should come up with a list of 10 blogs relevant to mine, and seek to link my subject matter to theirs when guest posting;
stop writing three posts a week for my own blog, and instead write two plus one guest post.
Jon also taught me how to properly pitch a guest post, and gave my confidence a boost by telling me my writing was good enough to pitch to blogs with 30,000+ subscribers.
Back to the grind
So it was back to the grind for me, but with a real vengeance. I could do this. I would do this! And the best part was I could do it by employing my existing skills, not by figuring out every in and out of online marketing or blog design.
Over the next few months I wrote many guest posts, some of them for major blogs like Dumb Little Man and Pick the Brain. I pitched everyone – small, big, and in between. Sometimes I wasn't answered, but most of the time the response was encouraging.
It wasn't rocket science. I just hadn't heard this stuff specific to me. I hadn't been told 'you can do this; you've got what it takes', and I think that's what made the difference for me. I felt empowered.
5 ways blogging took my business from blah to boom
Since speaking with Jon I've received tons more blogging advice and engaged with dozens of other bloggers. I've been involved in a few more blogging clubs, and read a good handful of books on blogging success.
What I've learned is that when it comes to growing your blog and being 'successful', everything does work to an extent. But as bloggers we need to stop thinking that we have to follow every teen-tiny rule, and instead start focusing on the 20% that really makes a difference.
Here is my 20%:
1. Guest posting. All I can say is – do it. Please. For the love of your blog.
2. Content really is king. Spend some time looking at which are your most popular posts and which had the most comments. Figure out why.
3. Monetize early. I went and heard Darren Rowse of Problogger fame talk and his direct advice to me was to monetize early. I've found that by regularly introducing an information product, service or an event (I use an approximately 10:1 ratio of content to sales) my readers are not only used to buying from me, but they've come to view me as a one-stop shop for all fat loss and nutrition advice.
4. Network. Building blogging relationships has opened doors for me with guest posts, and also meant that when I launched my new women only blog in March 2011 I was able to have 29 incredible women help promote my launch. I've also found some great support from other bloggers, and been able to share my own advice along the way. In fact, I now have another income stream mentoring other trainers and nutrition practitioners on how to boost their blogs.
5. Be you and make your blog personal. Rather than present a purely informative and professional facade on my blog I've allowed readers into my life, sharing how I eat and exercise (including the 'naughty' times), sharing news about my elopement and my pregnancy, and even having the occasional rant. I write as if I'm having a conversation with a good friend or client. I think this is one of the most important elements of blogging success.
When I decided to never never never quit blogging, I didn't really know what I was committing to. Just to writing I guess; t0 seeing where I could go. But mostly I was committing to myself, and to the faith I had in my abilities as a writer.
I'm so glad I did have that faith – and by simply following these five steps I've been able to first cut my personal training back by 50%, to just 20 hours a week during my pregnancy, and in the past six months I've cut it out altogether, except for two group training sessions a week, and the practical component of my events. These days I choose to see nutrition clients for less than 10 hours a week, have a constant waiting list, and spend the rest of my time writing, planning, networking, and occasionally even acting like a normal non-blogging person.
And who knows? Maybe one day soon I'll actually catch up on all the sleep I lost as a start-up blogger!
Kat Eden is a Melbourne personal trainer and nutrition coach, and she blogs about fat loss and nutrition for driven women. Visit Kat at www.womanincredible.com, or over at the blog where this story began, www.bodyincredible.com.