Do You Need a Mobile Friendly WordPress Website?
Have you ever thought about how many people read your website or blog on a mobile phone?
As a web developer and web host service Mucho monitors search engine traffic for a large number of websites. My tech hero,  husband and chief Internet developer tells me mobile traffic is increasing fast.
12 months ago traffic from mobile devices and tablets on sites we monitor was typically around 5% of all users. Today it's as high as 25-30% for some sites including both my blogs, and by 2013, according to Gartner, more people will use mobiles than computers to get online.
Currently 21% of readers on my travel blog Get In the Hot Spot are viewing on mobiles and tablets and 87% of those people viewing on a mobile phone are first time visitors.
Why Your Website Needs to be Mobile Friendly
First impressions count so it's now essential to make sure your blog looks good and is easy to read on a mobile device.
We recommend WordPress as a blogging platform and while most WordPress sites basically format okay on smart-phones, they are far from optimised.
Just because you can see your desktop site on a mobile phone doesn't mean it's mobile-friendly. If your blog isn't available in a mobile friendly version, your blog readers will have to re-size the pages and fonts, scroll around and swivel their mobile around for the best view. It's not user friendly and, even after all those adjustments, it's probably still hard to read.
Just as your blog needs to be designed to be user friendly, so your blog needs a mobile friendly version for all those people, especially the new readers, who are viewing on their mobile phone.
Make Your Website Mobile Friendly Now
To make it easy for you we're now offering a fast, effective responsive website design service for WordPress blogs or websites.
How does it work?
We use the best available professional WordPress plug-in to add powerful and easy-to-use themes for mobile and tablet visitors.
The plug-in works by detecting devices like iPhones, iPads, Android and more then serving its optimized themes instead of your regular desktop theme. Visitors can always switch back if they choose.
When you order the Responsive WordPress Blog Package we will:
Install an automatically detected mobile theme for iPhone, iPad, Android, Blackberry, Palm OS and Samsung touch mobile visitors on your blog;
Set your website or blog to web app mode;
Ensure compatibility with your cache and other plug-ins;
Create a child theme so that the plug-in can be upgraded in future without deleting your theme;
Brand the mobile friendly version of your blog with your logo and background colors;
Create full menus so readers can access all content;
Reformat video and image content where possible.
Satisfaction Guaranteed
We offer a personal service to a small number of clients including many who've been working with us for over 10 years. In the unlikely event you're not 100% satisfied with the package there's a 60 day money back guarantee.
Please note: to give you time to try the new mobile version and for us to correct any unexpected problems, no returns within the first 30 days.
Mobile Friendly WordPress Website and Blog Examples
Want to see examples? Check out this blog on your mobile or my travel blog Get In the Hot Spot.
Here are a few screen shots:
1. Mobile friendly blog screen shot – Home page is clear, clean, branded and attractive.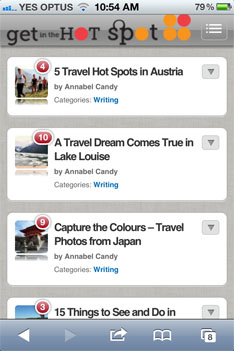 2. Mobile friendly blog screen shot – Blog posts are easy to read and your blog readers can skip straight to the responses or comments.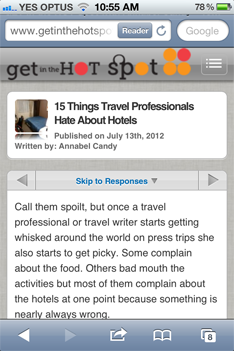 3. Mobile friendly blog screen shot – The mobile version shows automatically on cell phones but readers can easily switch it off if they wish.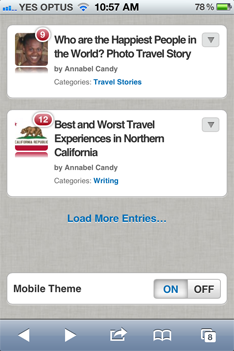 4. Mobile friendly blog screen shot – Comments are threaded and easy to reply to.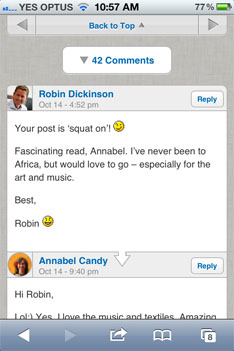 Got questions about responsive website design?
Leave your questions and comments about responsive WordPress websites or blogs below and we will answer them pronto.
Not sure if your website or blog is mobile friendly or not? Just ask in a comment below and we'll check it out for you.
Find out more about responsive website design here or contact Mucho today to find out how we can help you.
Photo credit: Ziebol