Could a Website Update Double Your Business?
Just like going to the dentist for your annual check up, updating your website can be one of those jobs you delay. But at what cost?
A tired website can make you, your business and your products or services look tired too.
Poor set up and design could be negatively affecting your search engine ranking losing you thousands of visitors and customers each year.
Bad copy, a badly designed contact page or limited calls to action could mean that too many of the people who visit your website leave without making an enquiry or buying anything.
In other words an old, badly designed website could be losing you thousands of dollar every month.
So why hold your business back by delaying updating your website? There's a lot to be gained from updating an old website and we'll make sure the changeover is easy, seamless and effective.
Website Update Case Study with Before and After Pics
We recently redesigned and updated a Brisbane conveyancing website and the results surpassed everyone's expectations.
Charter Conveyancing are a medium-size legal Brisbane-based law firm specialising in conveyancing law as well as wills and trusts. With their old website looking dated and not as user-friendly as it could be, lawyer and business owner Brad Mifsud asked us to update the site and reaped the benefits of that investment fast.
Brad Mifsud is enthusiastic about the new site design and results:
"Our new website has only been up for a month but we've already noticed an immediate and sizable upturn in business. Thanks to all the new inquiries, this month will be our busiest of the year.

The new website has increased our business in two ways. It gets more visitors now due to improved search engine ranking and it converts more site visitors into prospective clients, who not only visit our website but contact us for help.

I never expected to see such a big improvement in business from updating my website and only wish I'd updated it years ago. It's been a smart investment and we'll continue to work closely with Mucho on our Internet marketing strategy now to build on the momentum gained with the new site design."
Before and After Pics
The old site looked old-fashioned and uninspiring. Although the contact form was visible it wasn't converting site visitors into inquiries as well as it could and we were keen to improve the all-important calls to action.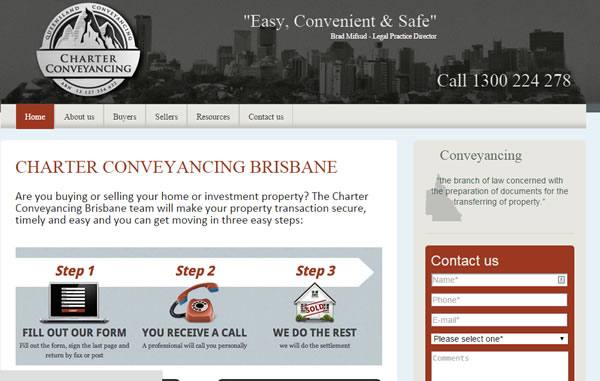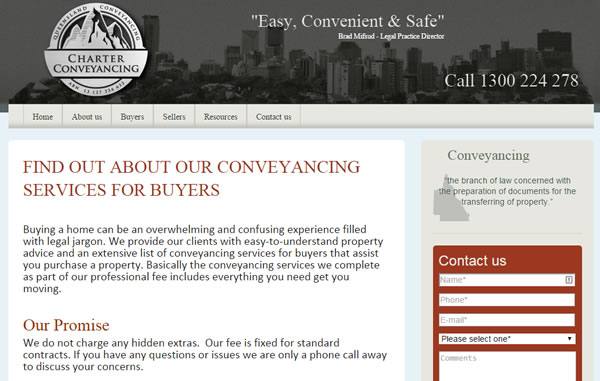 The new website is lighter, brighter and more modern with a strong, authoritative feel which is crucial for a legal site.
Calls to action are clear and immediate and a pop up contact form means making an enquiry is frictionless.
Site content is clearly categorised and easy to read with the latest and most useful blog posts flagged to keep people on the site longer.
Website Update Changes and Tips
1. Seamless SEO
The Charter Conveyancing site already ranked reasonably well in the search engines so we took great care not to jeopardize that. Many website designers don't fully understand search engine optimisation (SEO) so when they update a website it can negatively impact the SEO.
In this case Rich was able to make the update without negatively affecting the existing SEO and actually improved on it. Which means the site now gets more visitors through search engine traffic.
2. Improve forms
Website forms seem like such a small thing and are often added by web designers as an after-thought. But good contact forms are crucial to convert site visitors into inquires and there are good contact forms and bad ones.
We added a pop up form with minimal fields that has immediately doubled the number of web enquiries.
3. Update the look and feel to create a strong, professional first impression
No one will contact you online or by phone if your website doesn't build instant trust. This is especially true for professional businesses like lawyers, doctors, dentists, architects and many others.
The new website is built on a simple and easy to update WordPress theme yet it creates a great first impression with a clean, modern feel and easy to read content.
4. Add video content
Recognising the importance of video marketing, Brad Mifsud has created a series of videos which are shared as blog posts and on the home page. This is an easy way to differentiate Charter Conveyancing from other companies, establish their superior expertise and services and create an immediate personal connection with new and existing clients.
5. Content creation
We worked closely with Brad to create new content for the website and streamline existing content. The aim is to make the site equally useful to both property owners and real estate agents so that Charter Conveyancing becomes a go-to source of Brisbane property information.
6. Improve navigation
Even though a huge amount of new content was added during the website update we simplified the navigation system to make content easier to find. Everyone is in a hurry these days, so helping your clients find the information they need fast on your website is essential.
7. Add calls to action
Sometimes simple things like reminding your website visitors to get in touch or asking them to call you now can make all the difference to your bottom line. We added calls to action at key stopping points on the website which has created an increase in both web and phone inquires for Charter Conveyancing.
Creating a new website is always fun but updating an old website can be just as exciting. All the more so when you launch it with great results.
Get a Free Consultation
Need to get a website update? If your website looks outdated, is hard to use and has content that doesn't resonate with your clients it could be losing you thousands of dollars of each year.
Don't delay! Contact Annabel or Rich today to book a free consultation and find out how you can turn your website from blah to boom.