Blogging Tips A-Z: O for Outposts
Blogging outposts are all those other places bloggers can hang out to meet new people and connect with new readers. There are hundreds of them but these are a few I use: Facebook, Twitter, Pinterest, StumbledUpon, Instagram and LinkedIn.
Social media outposts like these and Tumblr can help drive traffic to your blog and help your readers spread the word about it. There's a ripple effect every time you write a blog post and share it on your social media outposts as you can see in this image I made for a presentation.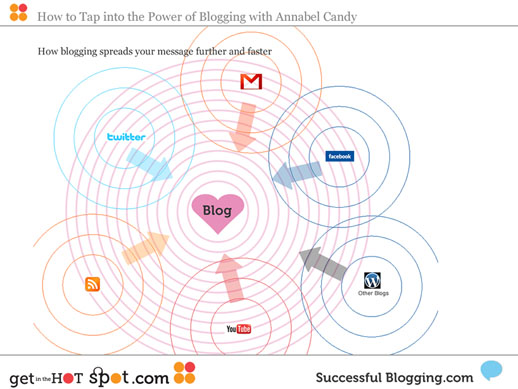 As the image shows your blog is the heart of your business which drives new leads and clients to you.
Outposts are places where you have a presence but you do not own those sites. They are important but less important than your blog. that's because you do not own Facebook and you cannot control what happens there. It is even possible that your Facebook page could be shut down if it is accidentally reported.
So while your main focus is your blog you will also be spending time on your social media outposts.
These outposts are sites where I make my blog stronger by:
adding content or micro-blogging;
asking for feedback;
sharing my expertise;
talking to readers;
making new relationships and nurturing old ones;
having fun.
As you can see it's not just about getting traffic, it's about offering your community multiple ways to stay in touch with you.
Remember that there are other outposts too like forums or other blogs where you are commenting regularly and adding value to the community.
At the very least you should set up a Twitter account and Facebook page to your blog which automatically updates with the RSS feed of your latest blog post. I use Hootsuite to manage Twitter, Facebook and LinkedIn from one place and also schedule in advance.
Better yet get social media smart, consider your Twitter tactics and start playing around on your outposts. Make sure they are in keeping with your branding, enjoy making new connections and wait for the ripple effect to kick in.
And who knows, maybe I'll see you on Facebook, Twitter or LinkedIn soon?
Or contact Mucho now for advice about your digital media strategy.